Life's Abundance Dogfood & Products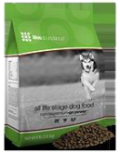 CLICK ON PHOTO TO ORDER
FIVE YEAR HEALTH GUARANTEE IF YOU START AND KEEP YOUR PUPPY ON LIFE'S ABUNDANCE AND SUPPLEMENTS.
Please read the information below carefully. The food you choose can make a difference in your new companion's life!
As a breeder, folks are always asking us, "what kind of dog food do you recommend?" Over the years, we have tried several dog foods recommended by vets, breeders, etc. It seems we had to have several different dog foods to meet the needs of all of our dogs. I started researching again to try to find one quality dog food that would meet the needs of all of our dogs. I was looking at the first few ingredients as they are the most important and meat should always be the first one. The guaranteed analysis is the next most important criteria. Then a breeder friend of mine just happened to say, "Lois, you should try Life's Abundance. It will the needs of all of your dogs". So I did research on Life's Abundance and was so impressed by the quality and high standard of the food and amazing testimonials from the customers and field reps that I decided to try Life's Abundance Nutritional system. The results have been outstanding. All of my dogs from puppies on are started on Life's Abundance and kept on it. Our goal at Louie's Dachshunds is to provide our customers a puppy with the best temperament possible along with the best bloodlines possible. Also to give our customers a beautiful, healthy companion that will be enjoyed for years to come.
Life's Abundance was created to provide our companion animals with a nutritional advantage. The food for puppies and adult dogs is made with select ingredients to help your dog achieve and maintain optimal health. This line of products was created by Dr. Jane Bicks, DVM. She has been a holistic vet for over 20 years. She has served as President of the American Veterinarian Association of New York City, earned three Presidential Citations, appointed by Mayor Rudolph Guliano to help establish one of the largest animal shelters in the world, the author of three books on responsible care and treatment of pets, and has appeared on 48 hours, Good Morning America, CNN, Discovery channel, Animal Planet, and more. She has also created a non-profit foundation where a percent of the profits is contributed toward rescue and care for pets.
While it is true that dog food started around World War II time consisting of leftover grains and meat that were rejected for human consumption, it was recognized that the food was not providing adequate nutrition and dead, diseased, dying, drugged animals were fitting the criteria for being used in the food. Our pets can genetically live to be 20 years old but the current average is only 13 – 15 years due to environment, health care, and nutrition as one of the most important factors. Many of the ingredients in our pet food today cause a shorter life span due to stress on the kidney and liver functions which include wheat, corn, and soy. These are also major allergens to our pets. By-products such as chicken heads, duck bills, fish heads, chicken and turkey feet, bones, and diseased and contaminated slaughterhouse meat can also be included in our pet foods! BHA, BHT, which harms our dogs liver and kidneys are also known as carcinogens. Ethoxyquin, which is used to stabilize rubber and other chemicals are added to provide a longer shelf life for months or even years!
Life's Abundance Nutritional System consists of the food and the wellness supplement for puppies and adult dogs of all breeds and sizes. The delicious recipe features an antioxidant system to support dogs throughout their life cycle. The prominent fatty acids promote a healthy skin and a glossy coat as well as complex carbohydrates from oats for sustained energy. Another highlight of the food is its proprietary blend of vitamins and minerals to supply dogs with the nutrients that help them to thrive regardless of their age. The Life's Abundance recipe furnishes the body with optimal protein levels to help puppies grow strong and adults to maintain muscle mass. Additionally we have added a balanced blend of calcium and phosphorous to support both developing and aging bones. Our naturally flavored kibble comes complete with dietary fiber and probiotics to promote digestive health. Because only wholesome ingredients are used, it contains no artificial colors, flavors, corn, wheat or glutens. It is nutritionally dense which means that you won't have to feed your dog as much food as other brands and that translates to savings you can count on meal after meal and less mess to clean up as well. IT IS WHAT A PET FOOD SHOULD BE.
Our puppies begin eating Life's Abundance food mixed with warm water at around 4 weeks of age and gradually by the age of 8 weeks of age, get ready to go home on the dry food. We do love the pork and venison canned food for some of the picky early eaters. we also use the wellness supplements because of the powerful antioxidants which eliminate free radicals and boost the immune system, creating a preventative against skin and coat problems, various forms of cancer, heart issues, arthritis, cataracts, tumors, digestive problems, allergies, and hip dysplasia. We believe it is crucial for your puppy to continue taking the Life's Abundance Nutritional System throughout their lifetime. At any time if your pet is removed from the food and supplements, the health guarantee will become null and void.
ORDER Life's Abundance dog food by clicking on the dog food bag on the right side bar on the "Puppies Page" on our website. OR you can call 1-877-387-4564 and tell them your rep is Lois Baker #20264450, OR you can click on the dog food bag above and order. It is important that you use that link or let them know my # when you call to order so I can track the order for your health guarantee.
We hope you will enjoy your puppy for years to come. We have taken steps to ensure that your new puppy is healthy and happy and we are putting our best guarantee ever to ensure that you will have a healthy pet. We are stepping up our one year health guarantee as it is on our contract to a full five year Health Guarantee for all customers who use Life's Abundance food and nutritional supplements. This includes customers who have previously purchased Life's Abundance and has no lapse in their use of the Life's Abundance Nutritional System.