[message_box title="WEEKLY SERIES ON INTERESTING DACHSHUND FACTS" color="BLUE"]We are starting a weekly series on interesting Dachshund facts.  Tune in every week at same time and same place to learn more and more and more.[/message_box]
INTRODUCTION TO THE NOBLE WIENER DOG!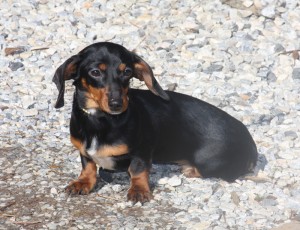 The Dachshund makes a great family pet and outstanding companion.  Their intelligence, loyalty, and toughness show off their long heritage as a brave hunting breed.
Do you ever wonder why folks decide on the Dachshund as their pet of choice?  If you are a lucky owner you were probably drawn to the low-slung hound with a big attitude.
Folks are fascinated by their funny, sausage shaped bodies. The Dachshund exhibits the personality and traits that make him/her a perfect companion dog.  They are fiercely loyal, protective, tough, and affectionate.  They are sweet, cuddly, lively, courageous, and always making you laugh.
The Dachshund is a perfect blend of wanna-be guard dog with spoiled and pampered lap dog tendencies.
One thing for sure is that for such a small dog, the Dachshund attracts a great deal of attention when you are walking him/her down the street. Your Dachshund might seem aloof around a stranger but he/she really loves the attention.
Folks will point to your Doxie and say, "Look at the cute Wiener Dog".
Tune in next week week when we will delve into the "Origin of the Dachshund".